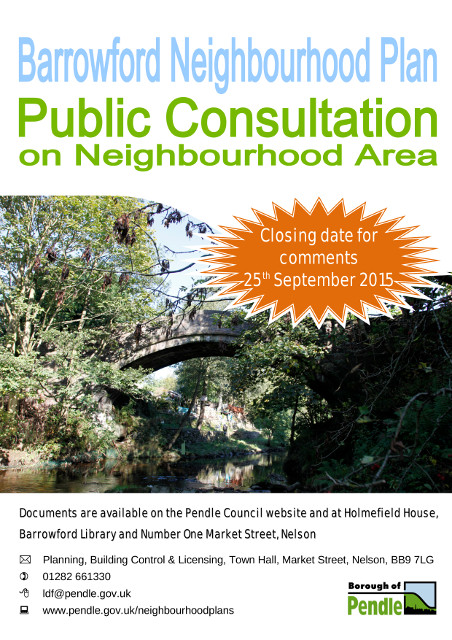 Local residents, businesses and organisations are being asked to share their views in the first step towards creating a Neighbourhood Plan for Barrowford.
Councillor Julie Henderson who leads on Planning and Development explained:
"Local people have new rights to help shape development in their areas by drawing up planning policies to guide the development and use of land in their neighbourhoods.
Barrowford Parish Council has put in an application to Pendle Council to prepare a Neighbourhood Plan.
It's the first step in creating a Neighbourhood Plan with clear objectives.
As well as helping to shape any future developments for the town, it will also give Barrowford a better chance of attracting funding and support for initiatives and town improvements.
It's now Pendle Council's job to consult with the local community and key stakeholders about the extent of the proposed plan and the proposed neighbourhood planning body for Barrowford,
People need to look at the consultation information and contact us in writing by Friday 25th September if they have comments or points they want to make."
Information is available on Pendle Council's website, or can be viewed at the following places during their normal opening hours:
Holmefield House, Gisburn Road, Barrowford, Nelson BB9 8ND
Barrowford Library, Ann Street, Barrowford, Nelson BB9 8QH
At Contact Pendle, Number One Market Street Nelson BB9 7LJ (opposite Nelson Library).
The next step will be to prepare a Neighbourhood Plan, with local people, businesses, voluntary organisations and other key stakeholders being involved.
Principal Planning Officer John Halton said:
"The final plan will need to show support from the local community, so it's vital that people have their say at every stage.
Any policies in the plan will have to conform to Pendle's wider Local Plan and the Government's National Planning Policy Framework.
Once it's agreed it will become a statutory planning document and will be considered by Pendle Council's planning officers when making decisions on planning applications in Barrowford."
Ends
Note to editors:
Neighbourhood Plans are a fairly new community led planning initiative, emerging from the Government's Localism Bill.
In Barrowford, the proposed neighbourhood area coincides with the parish boundary.